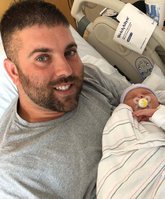 Follow story
Receive email updates when there are changes to this story.
Kevin P. Quinn
July 06, 1986 - July 28, 2018
Mashpee - Kevin P. Quinn, beloved husband to Kara and father to his newborn daughter, Logan. Kevin was a life-long resident of Cape Cod. After completing his education, he joined the United States Marine Corps in 2008 and served two tours of duty in Afghanistan. He was proud to be a Marine and honored to serve alongside his fellow Marines with CLB-7 Based out of Marine Air Ground Task Force Training Command, Twentynine Palms, California.
After returning to Cape Cod, Kevin pursued his dream of becoming a local business owner servicing the Cape Cod Community. In 2015, Kevin and Kara opened Quinn's Excavation and Septic and together ran a business establishment that has earned the respect of his peers and his clients.
He is survived by his parents, John and Janet Quinn, brother Ryan, wife Kat and daughter Savannah, sister Danielle Emerald, husband Eric, and son Dom. Kevin's grandparents are John and Kathleen Quinn of Gloucester, Massachusetts.
He is also survived by his loving in-laws Jim and Linda Sullivan, Kara's brothers Ryan and Brendan, and Kara's grandmother Evelyn.
Kevin was loved by his deceased grandparents, John and Ann Donovan, numerous uncles, aunts, and cousins as well as his wonderful and amazing friends. Kevin always had a kind and generous heart. Doing for others as he would want done unto him was his way of life. He will be missed dearly by all the lives he so deeply touched.
He was an amazing son, brother, husband, and new daddy. In addition, Kevin had two furry favorites, Blue and Teak, whom he adored.
Some of Kevin's other passions were his love for boating, motorcycle riding, trucks, and enjoying the perfect "slightly undercooked" pizza.
Kevin spread so much love and kindness to so many and he will forever be in our hearts. We love you today, tomorrow and through eternity. You truly were a rare gem!
Visiting hours will be held Sunday, August 5 at Chapman, Cole and Gleason Funeral Home located at 74 Algonquin Ave, Mashpee, MA from 1 p.m. to 5 p.m.
A funeral mass will be celebrated Monday, August 6 at 11 a.m. at Christ the King Parish on Jobs Fishing Road in Mashpee followed by a Military burial at the National Cemetery in Bourne, Massachusetts. Notes of comfort may be made to his family at www.ccgfunerallhome.com
In lieu of flowers please honor our military families by participating in an outstanding local organization Heroes In Transition (www.heroesintransition.org). This organization was established by another fallen marine family and it provides various services, equipment, service animals and support to those too often forgotten Veterans.
As Kevin would often say, "SEMPER FI" to my brotherhood. You are my family.
Published on
August 2, 2018
Obituary published in
Events
Guestbook
Print Guestbook
Share your condolences and special memories.
The guestbook expires on October 30, 2018.
Share a message.
Add photos to your message
5 posts
Our worlds we are all connected souls and even though we don't now the Quinn/Sullivan family directly our hearts break of this news. The Lord has a plan for all of us but given the immense devotion Kevin made not only to our country but also his family it is for us to stay in faith and understand and send our love and hugs to all those that are heart broken. Our love goes to Kevin's wife and new born daughter and may she always know the immense love her father has for her given in this world but also sending spiritually where he will never leave her side but always be there. Know you are all in our prayers and our hearts weep for understanding and peace. xoxo
Dear Kara,Logan... and the WHOLE Quinn family
I cannot begin to tell you how sorry I am for your loss. Kevin was a very good friend to me. There is nothing fair about what has happened. That's what makes it so much harder to wrap your head around the tragic events that led us to have to say goodbye to such a wonderful guy. I will always hold my memories of him in my heart and I will think of Kevin always with a smile never forgetting his love of being on the water and his zest for life. May he rest watching over baby Logan and his loving wife Kara.
Dear Kara, Logan, and the entire Quinn and Sullivan families,
I do not know you but my heart breaks for all of you. There are absolutely no words that will take your pain and grief away but I pray that the beautiful love and precious memories that you all shared with Kevin will bring you comfort and Peace. He will live on through your precious Logan.
From one Marine parent to another Marine Family, Semper Fi. May God rest his soul.
Dear John, Janet, Kara, Baby Logan, Ryan & Danielle . . and Kevin's entire family, friends and Marine Corps Brotherhood. . My heart aches for all of you. I so wish I knew Kevin more than I did. Kevin and my nephew, Chad grew up together as best buddies. (Leah & Phil are my sister and brother-in-law; Josh is my son.) Kevin was SO loved by everyone. His leaving has reached far and wide. May each of you always know how loved and respected your beautiful Son, Husband, Brother Kevin is. He will be your Strongest Angel Ever and Watch Over Each of You for Eternity. With My Deepest Sympathy, Pilar